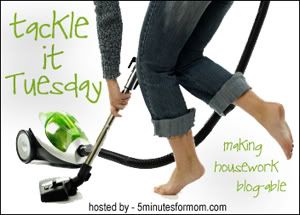 For tackle it Tuesday I'll be announcing the winner to my

bloggy

carnival giveaway......a previously read copy of

Rebecca

Woolf's fabulous book

Rockabye

From Wild to Child.
AND I'll be notifying the winner and making a trip to the post office to ship it! Here are some pictures of my highly sophisticated random drawing process...

I made slips of paper with the names of those that posted.....


I folded each slip of paper twice.....

I placed the folded papers into a bowl.....

I picked a piece of paper with my eyes closed....
AND THE WINNER IS........

Katie from Happy2bme!! As soon as I hear back from you with a shipping address I'll get this to the post office.
Congratulations! I'm just glancing back at the pictures of the drawing process. I originally took two pictures (I only posted one of them) of the first step of the process (the slips of paper with the names on them). I took one picture but didn't like how the little papers looked in the photo (ridiculous...I know...but that's me....get used to it)...so I felt the need to shuffle the papers up a little and try again.... and in BOTH photos Happy2bme's slip of paper was right on top....Karma.....

And on a completely different note...another quote from the fabulous book Happiness Now by Robert Holden...pg. 7....
"The faster we chase the world and the future, the quicker we appear to overlook the possibility that happiness is here already."
"Joy waits on welcome, not on time."
I LOVE that!