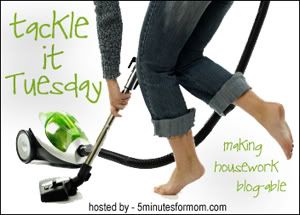 I've seen in recent weeks
bloggers
doing purse posts. I've been meaning to get around to cleaning out my purse so I'm killing 2 birds with 1 stone.
Today's Tackle
is my purse...AKA...the black hole. Here it is...my
FAVorite
purse in the whole wide world....

And I'll bet you'd like to take a peak inside the black hole....

What was found in the black hole? A pile of lots and lots of receipts...(I like to shop)...

A pile of coupons (most of them expired)...

A pile of miscellaneous garbage....

The 10 lbs of change at the bottom of my purse....

Remember the Mega Millions ticket that I hadn't checked yet...I JUST checked the numbers this morning....I didn't win...but at least I was able to prolong the suspense and delay the disappointment for a few weeks...
My 2 "must haves"...my Palm organizer and my Tide to Go pen....AKA: the miracle pen
(EVERY mother should carry one)....

lip glosses, VS body spray, eye drops...

mints, gum, candy...


I really need a bigger purse!
My darling daughter says to me last night: "Mommy, I have a big surprise for you but you can't come in my room until I'm done" (Said in 5 y/o sing songy voice)

Me: "OOOO....I love surprises....I won't look. Just tell me when you're ready"

DD...10 minutes later: "K, mommy, I'm done. Close your eyes." She guides me to her room while my eyes are closed. "K, open 'em"

And this is what I found....

Spotless...all her dirty clothes in the laundry room, bed is made...and made nicely, the baby's crib that is usually over flowing with miscellaneous toys, books, and garbage is completely emptied out and dressers are clear of all clutter.

Me: "WOW! Smurfette, you did a fanTAStic job and I didn't even have to ask! Where did you put all the stuff that was in the crib and on the dressers?"

Smurfette: "On the table in the great room"....

LMAO! She's such a sweetheart!