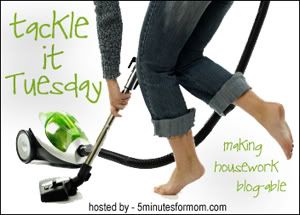 All right. The kids are all in school ALL DAY!! I'm getting back on the Tackle It Tuesday band wagon! I have a list a mile long of planned projects and didn't waist any time in getting started.


I'm on a mission to be a

doityourselfer

. I (theoretically) love doing home improvement projects. Although, my

repertoire

of do it yourself knowledge has been limited to painting up until now. I love to paint and transform rooms. I would love to know how to do other home improvement projects....like

retiling

an entire bathroom....replacing vanities and sinks....

replumbing

my master bathroom to add a two sink vanity (to replace the single sink vanity that's in there now). So, now that all the kids are in school full time I've decided to learn. I started with a small project. A tile

backsplash

in my kitchen. I'm DONE!!! Well....almost. The switch plates are on order and should be in sometime today. I'll edit this later and post pictures of the final step once I have them on.

The before photos: No

backsplash

. Just wallpaper.

Step one: Remove wallpaper. (Completed on Wednesday)
Step 2: Glue tile on. Completed Thursday.

Step 3: Let glue and tile set for 24 hours before grouting....then apply grout. Completed Saturday.
Be sure to leave a HUGE mess of splattered grout over every surface. This is very important.
Step 4: Let grout set for 24 - 48 hours.
Step 5: Apply sealer. Completed yesterday.
All done

!