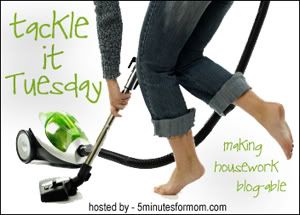 I'm still in the basement for this week's tackle.
Remember this photo?
This was the before picture from last week.


This was the after. Still couldn't stand all the clutter surrounding the TV so I made a trip to IKEA to find something to solve that problem.

Here's the after picture. I Love my IKEA purchase but I wish that piece were sold in an oak color. Oh well.
I also bought one for the kitchen areal.
Another part of my tackle was listing all the miscellaneous pieces of furniture in my basement on Craigslist. I listed all 5 pieces on Sunday afternoon and the last of them are leaving my home today.
I can't believe how fast they go on Craigslist. The stove was gone within 2 hours of listing it. The ugly cheap computer desk was picked up a few hours later by a man who I think could quite possibly be the world's happiest man. He was entirely too happy to have purchased this ugly computer desk of mine....
I half expected him to start jumping up and down and clapping his hands. And when he called to inquire about the desk he asked if it was still available....I said "yep"....and he then says..."OMG I'm so in love with you".....those were his EXACT WORDS! Followed by a few awkward moments as I'm sure he realized what just came out of his mouth. I'm sorry have we met? What a freak! He picked the computer desk up driving an old Impala. My husband was trying to help this man force this computer desk into his car....the drawer falls out and slams on the concrete. "No problem, no problem man....I got it".... Cling cling pling,.....more metal of unknown purpose clangs to the concrete. "No problem at all I'll fix that right up...Gosh I just LOVE Craigslist you find the coolest treasures on there?" OMG are you high? This man just called this ugly computer desk a treasure? Hey, who am I to argue. A treasure it is. Where's my $10.00.
The book cases and TV stand will be making their way out this morning. It took less than 48 hours to get my junk sold. I'm done with garage sales and ebay! Craigslist is much easier.