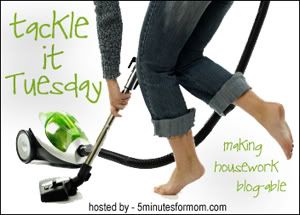 Accomplishing this Tackle it Tuesday has been like unloading a HUGE monkey off my back.
This monkey has been on my back for the last five years. Pestering me. Nibbling on my ear. Pulling my hair. Poking my eyeballs.....Annoying the hell out of me.
I've been putting it off mainly because I've been too lazy to try to figure out how busy to do it. It literally took me five minutes to figure it out and now I feel foolish for waiting so long.
I've had five years worth of digital photos sitting on my computer uncopied and unprotected. If my computer crashed it would have taken along with it all my precious photos.
So....not only do I have all my photos saved on an external hard drive....
But I've also spent this entire past week (a little at a time) saving every single photo (and there's alot) onto DVD. And every DVD has a back-up. I feel so much better now!