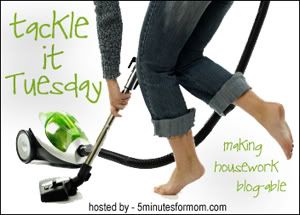 For this week's Tackle it Tuesday I've tackled the basement....aka the DUNGEON! I actually tackled this yesterday so I'd be prepared with before and after pictures for today. This was a group tackle...the whole family participated in this one.


Our basement is pretty large and has several different purposes. It's the play room, the game room, my scrapping/sewing/craft room, and the workout room. There's also a kitchen area and bathroom down there.
The basement gets very little attention in terms of keeping it clean because.....well.....because it's a basement. I'm horrible about making the kids clean up after themselves down there and to be honest I'm just as bad in MY section of the basement.
So, here are the before pictures....and again....please don't judge us!
That's Dreamy Smurf swinging on the rings. OK....this is going to totally gross you out....and I probably shouldn't be admitting this..... but under that blue mat below Dreamy Smurf there was actually a spot of mold growing on the carpet!
Those are actually two futons down there that are NEVER in the couch position. When the kids have sleep overs that's where they sleep so the futons never end up put back together. You can't tell but the futon on the right still has a pillow and blanket on it from the last sleep over.
This is MY section of the basement....it's no wonder I've fallen so behind in my

scrapbooking

! It's a little difficult to feel motivated to scrapbook when you can't even find the desk!
The kitchen hasn't been cleaned or touched since the holidays....I'm talking Christmas....not Easter. You really can't see them well in the picture but to the right of the sink are four Christmas tins with

Pizzelle

cookies STILL. IN. THEM. from the holidays. Hungry?
And now the after pictures. You can see the floor and all the toys are cleverly placed on shelves hidden behind curtains.
My plan for next week's Tackle is to make a trip to

Ikea

and find a very long storage cabinet to hide all that clutter and put the TV on.
THERE'S the desk! I think I'll do some scrapbooking tomorrow!
Smurfette was so excited to have a clean basement she said "mommy, it's so clean down here....we can even play tag if we want!"
The one area that I forgot to get a picture of was the bathroom. It was covered in cobwebs and spiders...basement bathrooms really give me the willies. It's clean now. Disinfected and debugged.
So, now, today's project will be to get the carpet cleaner out and steam clean all this carpet.....and there's alot!